The HP Envy 4502 all-in-one inkjet printer is best suited for home users. This printer can provide high-quality photo prints with its borderless printing feature. You get a seamless mobile printing experience with this device, allowing multiple users to print wirelessly at the same time. However, all these and many other features of this MFP are only effectively used when you install this device using its true HP Envy 4502 all-in-one printer driver.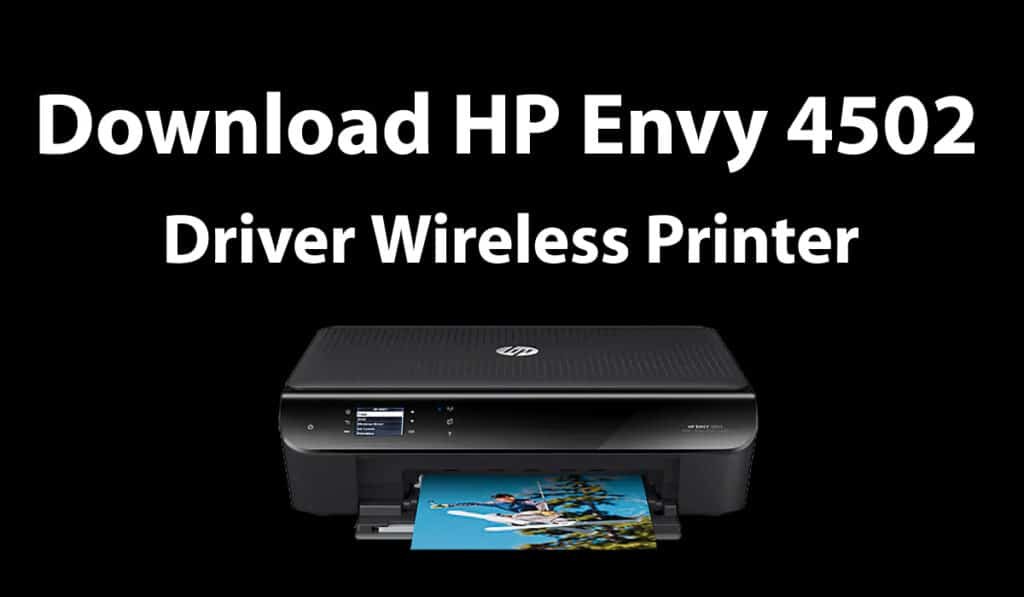 In this driver download guide, we share the HP Envy 4502 driver download link for Windows, Mac, and Linux operating systems. In addition to the download link for drivers, we also share a driver installation guide so that you can install the downloaded drivers using their proper installation process. All the drivers shared below are genuine HP drivers that are fully compatible with their respective operating systems. A link to download directly from the HP support page for this printer is also given, which you can use if you need other HP EV 4502 support software.
Read: HP Deskjet 3745 Printer Driver Download Inkjet Printer
HP Envy 4502 Driver Download Steps
We have shared below the list of operating systems supported by this printer. You can get the HP Envy 4502 driver setup file from the website by following the steps below.
1. Find your favorite operating system from our list of operating systems.
2. Next, use the download button associated with your operating system to start downloading your printer driver file.
Driver Download Links
HP Envy 4502 driver for Windows XP, Vista (32bit) → Download (127.5 MB)
HP Envy 4502 driver for Windows 7, 8, 8.1, 10 (32bit / 64bit) → Download (127.5 MB)
Here's how to install HP Envy 4502 driver on Windows.
HP Envy 4502 for Mac OS 10.9 to 11.0 Big Sur → Download (9.1 MB)
HP Envy 4502 for Linux, Ubuntu (32bit / 64bit) → Not Available
How to Install HP Envy 4502 Driver
Before you start installing your newly downloaded printer driver, you should read our printer driver installation guide below. By following the installation process that we have described in our installation guide, you will be able to install your printer driver without making any mistakes.
Install the HP Envy 4502 driver using the driver package
Please read our guidelines carefully and follow the installation process in the correct order.
Double click on the driver file you downloaded from this website and choose "Run".
The file is awaited to be examined.
Wait until the "2" turns blue, then click the "Continue" button.
Click "Checkbox" to accept the contract, then select "Next".
Wait until the original device software is installed.
Select "Connect the printer to this computer using USB – USB cable", and then click the "Next" button. Select the Wireless Connection option if you want to connect to this printer wirelessly.
You now have the option to connect your printer to USB or later. Since we will connect it later, we have selected the checkbox "Now continue the installation without connecting, I will connect the printer later". Then click on "Ignore".
Finally, click "Finish".
Now you have successfully installed your HP Envy 4502 printer driver.
Precautions When Installing Printer Drivers
When you install a printer driver, there are some precautions that you should take to ensure that the entire installation process runs smoothly and hassle-free.
When installing a printer driver, if you are asked to allow changes to be made on your computer, you should allow those changes.
If you downloaded the driver from a reputable source, but the Windows security screen says that the publisher of the driver is not verified, you should allow the installation to continue.
If during installation the driver asks you to remove the block from the Windows firewall so that it can get the required information, then you have to remove the block.
If you use the installer to install your printer driver, sometimes you have the option to update the existing printer driver to a new version. You should take advantage of this option.
HP Envy 4502 Ink Cartridge Details
This HP inkjet printer uses standard size and high yield (XL) ink cartridges. HP 61 Black (CH561WN) and Tricolor (CH562WN) standard size ink cartridges can provide print yields of up to 165 pages per cartage. While high-yield HP 61XL Black (CH563WN) and Tricolor (CH564WN) ink cartridges can print approximately 330 pages per cartridge.